Okay folks, it is time to kick off my solo exploration series, and what better way than to start with four games that are all set in a Science Fiction theme and are smaller experiences in terms of components and size? Three of them are designated as 1-player only, with the other being a 1-2 player potentially cooperative experience. For our contenders we have two titles from Button Shy Games (one from their Wallet series of games, and one from their Board Game of the Month Club subscription), one from Grey Gnome Games that I snagged as a print-and-play, and the other from Capstone Games. Beyond those commonalities, there is no other rhyme or reason for these selections, but I think this should make a fun little exercise.
For those that missed my previous post, here's what I did: I played each of these games one time. Below you will hear me talk a little about what the game has you do, my experience for the play, and some brief thoughts on the game experience as a whole. At the end, I'll talk about the four of them in relation to each other, giving my own initial ranking of them from least-favorite to most. As will usually be the case, and is certainly the case here, I did genuinely enjoy all four of them for what they offer. I'd happily recommend all four of them to solo gamers if any of them sound interesting to you. But while I might have my eyes on one or two of them to play more in order to write a review, I want to make this a way to engage with others, so YOU get the next week to vote on one of these four games to determine which of them I will be certain to review in the near future. Since they are all shorter games, this shouldn't be too much of a challenge to get that turned around in a relatively short timeframe while also working on my next set of games to play and talk about solo.
So without further ado, let's dive right into the four games I played.
The Final Light-Year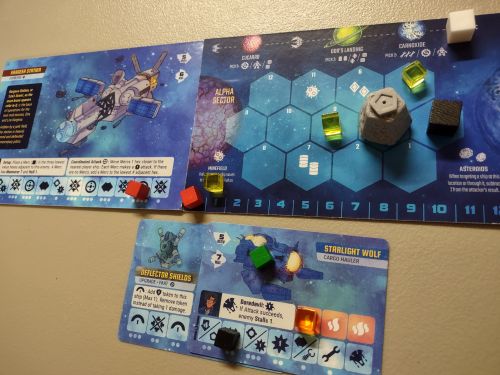 I decided to kick things off with a small, relatively short game that I've been meaning to try for months. For those not in the know, this has been the Button Shy Board Game of the Month annual highlight for most of the past calendar year – and just $5 or so per month will get you the minimum each month delivered for their annual game (Last year was Personal Space, and the year before that was a favorite of mine: Chain Mail). It consists of a postcard-sized map, a few cards, and then the use of some dice and cubes (they provide tokens you can cut out instead). This has you maneuvering around the map in dogfights of sorts, trying to destroy three different enemy ships, with some chances to upgrade/recover your ship in between.
The real highlight here is the Command Track, which both your ship and the enemy ships have. Each space on this track has 1-4 dots on it, so at the start of your turn you roll a d6 and move forward that many dots onto the track. Then you can do up to 2 of the actions on the next two spaces ahead of your cube on the track. The enemy does the same on their turns. So it is all about doing what you can, when you can, with some chances to shift your cube a space, to reroll dice, and to move your ship for free at the expense of certain resources. Some upgrades will even extend your track by 3 spaces to the left or right of your ship's card.
It's a lot of die rolling, and it was probably my own ineptness (and poor rolling) that made this risk overstaying its welcome. The final battle, in particular, saw a lot of wasted rounds on both sides with no real change in health of the ships and I certainly grabbed the wrong upgrades along the way in relation to my ship. However, now that a game is under my belt I'm excited to dive into the different ships, enemies, maps, upgrades, and missions that I can mix-and-match to play custom set-ups. If I continue to enjoy the clever command track after a few more plays, I'll have to track down the 6-7 of these that I missed out on grabbing and see if I can't string together something along the lines of the Xia campaign, where you need to use a different ship on each different mission, playing through them all in the order of your choice.
Desolate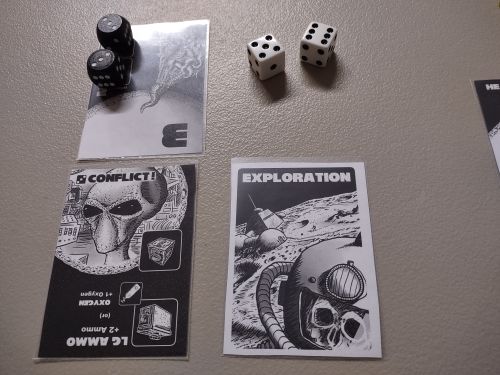 This one is the sole Print-and-Play title from this run-down, and you can snag a copy for yourself to print at a very reasonable price from PNP Arcade. The premise is that you are exploring to find the five power sources needed to escape from this hostile planet. As such, you are taking two cards from the top of the Exploration deck and flipping one over. At that point you can either resolve the card for its effect and discard the other without seeing it, or you can discard the revealed card and face the other. Some of these will give you one of your three resources: Health, Ammo, and Oxygen. Others will present a conflict where you face an Alien who, of course, hits you first and then you spend ammo to roll dice and defeat it. What you really want, though, are the cards which bestow those power tokens, because you'll be losing two (out of four!) oxygen every time you cycle through the small Exploration deck.
I blame the learning of the game late, and the playing of it late. I was hung up, first, on whether or not your resolved Encounter card also goes to the discard pile to be shuffled. I ultimately decided it should be, and simply played with the discard pile face-down so I couldn't see what I avoided facing. Then I spent most of the game forgetting that I could choose to face the unknown encounter after flipping one, so I probably made most of the game more difficult than it needed to be. I ran a literal gauntlet of Conflicts during my second run through the deck, with the last one coming as I was completely out of ammo so we traded damage 1-1 and I barely survived. However, the very next pair of cards on the third cycle of the deck was another pair of Conflicts, leading me to my fateful demise.
I am confident my next play (and there will be one!) will go a little better for me, since I won't be both exhausted and learning a new set of rules. This one has some interesting decisions, and it seems like there's a consensus on BGG that the game is easy to break by always taking the 2nd Encounter card if it isn't one of the ones giving that Power Cube. I suppose that would be true enough, for those who like to game the system (to me, that's like saying why buy anything but money cards in Dominion since you'll win more often than you lose with that strategy. Is that really any way to have fun with the game?). I'd rather treat it like the press-your-luck decision it genuinely presents in deciding whether I want the benefit or conflict I know, or risk something less helpful or more harmful if I decide to choose the other card. I also really like the Conflict system, because you choose how much ammo to spend in order to roll that many d6, and even when you lose their value is decreased by what you rolled which makes them easier to finish the next round. For what the game offers in a time investment and a component list, this promises to be a genuinely fun experience. I see there are a pair of mini-expansions that add character powers (among other things) that I'll be excited to check out as well, because I absolutely love character powers.
Spaceshipped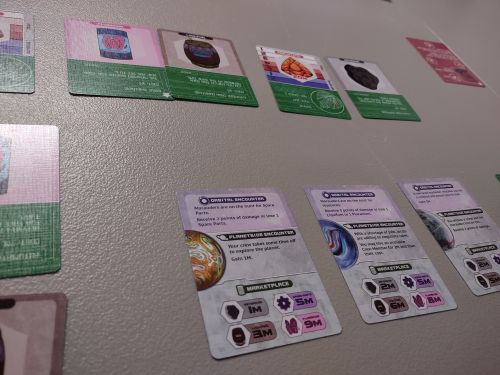 This little Button Shy wallet game has hung around and hit the table only a few times and I honestly can't explain why it doesn't get taken out more often. In this one, you're trying to obtain two crystals that cost 20 million credits before the "timer" runs out and either your ship is destroyed or the boss gets two of them. The neat thing about this game is the multi-use cards and how they maneuver from the resource row, to the planetary space, to the upgrade offerings, and then back again. You can buy a new ship ship, upgrade your crew, get a new add-on for your ship, and store a few items. There's a lot of market speculation, as you want to buy things when they are cheap from the Market and sell them for a profit, but space is limited and those cards are cycling every round. Every time a crystal leaves the market, the enemy advances a rotation toward buying it, so you can't just stack the deck in your favor.
What I love here is being able to see the event/market coming up, as they move across the row and depending on where it is in sequence determines what part of that side you use for the round. Yet you'll never know all of the things, since the first event to strike is what will get flipped over from the Resource row at the end of the round. I thought I was safe, but flipped a card that made me either sacrifice an item that I didn't have or else take 2 damage. Needless to say, that finished me off prematurely, yet I had a blast playing this. The biggest issue is, of course, the constant movement of the cards since there are 3 different rows that shift every round. It has a flow that makes sense, but unless you have unlimited table space eventually you'll have to manually shift those rows back into a space that makes sense for you.
This game is a lot of fun overall. It is quick, and takes up only a little bit of space. There's a good number of expansions out for it already, of which I have a single expansion to integrate after another play or two of the base game. It is probably my favorite solo-only title from Button Shy Games so far, although some of the newer ones I haven't played yet in order to make that official call. I enjoy the theme, too, as you could almost imagine you are out doing the Kessel Run, shaking off heat from the bad guys as you try and make your deliveries to the places that have the cargo in your hold in demand. Clever games like this, with no real randomness beyond the flipping of one of those event cards each round, leave room for the player to feel clever as they make effective plays without needing to see if the dice agree to allow it to happen.
Lux Aeterna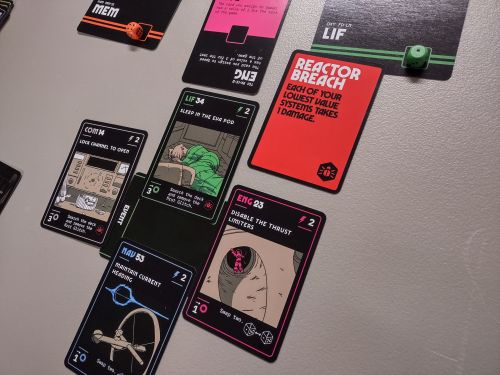 From the list here, this is probably the game I had played the most going in – although Spaceshipped might have been neck-and-neck with it. I knew what to expect from Lux Aeterna, and had a pretty strong feeling it would be the title carrying the list for me after I played the four of them. This one is a bigger package than the other three games combined, yet it plays in 15 minutes or less…guaranteed thanks to the timer. I'm not usually one for real-time games, but this game has opened my mind to trying others like Proving Grounds in the future. This play was exciting, as an early glitch lowered all of my lowest dice by 1, dropping my four 2's down into the danger zone. Needless to say, it didn't get much better from there and I suffered defeat, although I came far closer than I ever expected given the early run of bad luck in there.
Much like Spaceshipped, this one has minimal randomness involved beyond the order in which cards come up. I love that you draw four, and then allocate one to each of three things to resolve and, for most of the time, you can carry a card in reserve. Because of the timer, you are constantly making snap decisions on how to best execute things, and every round you're seeing one of your six dice decrease in value and your ship draw closer to the black hole. But you also get an action each round off the third card, which can be as simple as increasing a die, flipping a die, rolling a die, moving your ship away from the black hole, or even seeking out and removing glitches. And every system you fix (getting to a 7) gives you a benefit, while every one that goes below a 1 causes some consequential effect that will set you back (either now or later). I went a step further and played with those system cards face-down, keeping hidden the good or bad effect that could trigger, which adds some tension but also extra difficulty.
One of the best things about this game is the guarantee of a fast play. However, it doesn't sacrifice player autonomy nor layers of decision-making to do so. There's a lot of little decisions that add up, and even in moments where you hit something that is unavoidable bad luck, there's still ways to recover from it as long as there's time remaining. You can adjust the difficulty by starting closer to, or further from, the black hole to have a modifier to your winning score. All of the elements in this game are small when considered alone, but as a whole this really comes together to provide a delightful solitaire experience that I can pull out on any given evening when the mood strikes and have it played in the time it takes to set up other games. It's challenging, exciting, and full of those moments that give a narrative voice to retelling what unfolded along the way, whether for better or for worse.
Final thoughts concerning the four games
To begin, I did genuinely enjoy all four of the games, and they will all remain in my solitaire rotation. But, to be certain, two of these stand out as being more of my sort of gaming experience that I crave. Lux Aeterna is the leader of the pack, to no surprise, because it has strong variety in the gameplay and in the box, with variable systems and glitches so you won't know before starting what you might have to face or focus on. Spaceshipped is close on its heels, with a delightful game system that is done in far fewer cards than should be possible to provide that much fun. Both of these games offer limited randomness, leaving a sense of empowerment and control to the solo gamer, and both provide crunchy decision spaces on where to focus and how to go about completing your task.
Desolate comes in at a close third, granting some decisions with regards to the exploration deck, but that has less impact on the overall experience. Games like Friday provide a more meaningful decision space there, since you know the next time you see that card it will be even more menacing. I think there's a good puzzle to solve here, though, and there are those mini expansion packs that definitely draw my interest in seeing how they change up the gameplay. Finally we have The Final Light-Year, whose greatest strength might just be the variety across the releases. Being able to choose from a host of ships, upgrades, maps, enemies, and more will give legs to a game with one really clever idea and a ton of dice rolling. Sometimes it is a blast to just chuck some dice, right?
Again, I do enjoy all four of these, but the final ranking after the first play would be:
1. Lux Aeterna
2. Spaceshipped
3. Desolate
4. The Final Light-Year
But it isn't up to me which game I'll get back to the table first. That, dear readers, is up to YOU. I'll have this poll running for the next week (until 3/6/22), and at that point in time whichever game has the most votes is the one I'll break out again and revisit until I have enough new plays to comfortably review the game as a solo experience. Go to my post on BGG to vote in the poll!
That being said, I won't be sitting idle in the meantime! I have three more games in the queue to be played for the first time and they all have one thing in common: they are my most recent solo-focused purchases. What are they?
Imperium Classics
Robinson Crusoe: Adventures on the Cursed Island
Warp's Edge
I believe they all are in the top 50 of the 2021 People's Choice Solo list. One I've wanted to try for YEARS, and the other two have caught my eye very recently. Imperium Classics is about 70% set up for that solo play, running the Macedonians. And I honestly cannot wait to get underway!