Thank you for checking review #45 by Cardboard Clash. My aim is to focus on reviewing board games and how they play for two people and, on occasion, how they play for one person. Because my wife is my primary gaming partner, a lot of consideration goes into finding those games that play well with 2 players, and we typically prefer to find those games that do not require a variant (official or otherwise) in order to play it with just the two of us.
An Overview of 878: Vikings – Invasions of England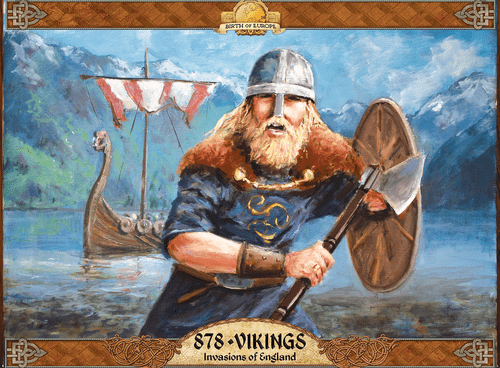 878: Vikings – Invasions of England is a game designed by Beau Beckett, Dave Kimmel, & Jeph Stahl and was published by Academy Games. The box states that it can play 2-4 players and has a 60-120 minute play time with a 2.56 weight rating on BGG.
The year is 878. For the past 75 years, Viking raiding parties from Norway and Denmark have been terrorizing the coasts of England with 'hit and run' attacks. The treasures and stories gained from these attacks have allowed the Norsemen to raise huge hosts of eager men seeking glory and riches. These armies now stand poised to thunder across England where they will settle and farm the fertile land they conquer. The divided English kingdoms are unprepared for this impending onslaught. The Vikings are coming!
In 878: Vikings – Invasions of England, players control the invading Vikings or the English nobles who are trying to withstand the invasion. Viking players either play as Norsemen Viking freeman or as the fearless Viking shock troops known as Berserkers. The English play as the Housecarl, the Kings' household troops, or as the Thegns who were regional noble Leaders. The English players will also be able to call up the peasant levies, called the Fyrd, to defend their cities.
Players for each side strategize together in order to coordinate their strategies. Each side attempts to control Cities on the map to win. The English start the game controlling all of England but a Viking Leader will invade from the sea each Turn. The English players raise reinforcements from cities they control, while the Vikings must wait for a new invasion for reinforcements. The game ends when the Treaty of Wedmore is called and the side controlling the most cities wins the game.
Setup and gameplay for 2 Players
The setup is the same regardless of player count due to 3-4 players simply divides the control of each side. In a standard game, each of the four player decks are comprised of cards numbered 01-12. Those are each shuffled and every faction draws three cards. If a faction draws no movement cards, they reveal that hand and shuffle into the deck, drawing three new cards. The Viking player separates their Leaders deck into A, B, and C and shuffles those, placing the B stack onto the C and the A card on top of that. Place a Viking Control token on each of the marked spaces along the bottom of the board and put the round track marker on Year 1.
The board populates with the Housecarl and Thegn units as shown on the board in the small circled spots. This will populate the board some, but leave plenty of territories throughout that are empty. No Berserker or Norsemen troops will begin on the map, as they have not begun to invade England yet. The Norsemen will always begin the game, with the other three turn cubes being placed in the black draw bag.
One the first Viking player's turn every round, they will draw the top card of their Leader deck and that will (usually) bring a leader into play with reinforcements. This will also indicate the sea by which the leader must invade. A player must play at least one movement card from their hand, which will indicate the number of armies that can move and the number of spaces those armies may move. The armies chosen must contain at least one unit of the current faction's turn. If an army encounters an enemy army during movement, it creates a battle. A leader army can use remaining movement after the battle, but an army without a leader ends its movement where the battle occurs.
Battle is simple. If the English players are defending, they draw a Fyrd card and bring that many Fyrd units into play in the shire where the battle occurs. The defending player then takes dice from each unit's pool, up to the number of those units in the battle, and rolls them (Ex. an army with 2 Thegns, 1 Housecarl, and 3 Fyrd units would roll 2 Thegn dice, 1 Housecarl die, and 2 Fyrd dice). Hit results cause an enemy unit to be defeated (opponent's choice, except if a Berserker is present and the Viking player is attacking. In the first round of battle, the first hit against the Viking player must be taken as a Berserker since they would rush into the thick of a battle). Command results allow those units to retreat to an adjacent shire, but only if there is a friendly army there. Flee results send those units to the Fled Units circle on the board. Players alternate rolling until one side remains in the shire. If the Viking player gains control of a shire containing a city, place a Viking Control token on the space. If the English regain control of a shire, the Viking Control token is removed and placed back on the track along the bottom of the board.
After movement, the player draws back up to 3 cards (revealing and shuffling/drawing if the hand contains no movement cards) and their turn ends. A cube is drawn from the bag at random and the shown color goes next. On each English player turn, reinforcements arrive on the map in some territories controlled by the English (shown in a small box printed on the map of that shire). Then any units in the Fled Units circle of that faction are retrieved and placed with any friendly army on the board.
The game ends in one of four ways:
The English win if, at the end of a round, the Vikings control no shires on the map.
The Vikings win if, at the end of a round, they control at least 14 city shires on the map.
The English win if both Treaty of Wedmore cards have been played on either side and the Vikings don't control at least 7 city shires at the end of Round 5 or later.
The Vikings win if both Treaty of Wedmore cards have been played on either side and the Vikings control at least 7 city shires at the end of Round 5 or later.
My Thoughts

One side of the conflict begins with nothing on the map. There is 100% English dominance at the start of the game, although their forces are generally pretty thin to begin. This is important because the Viking side does need a chance to invade and maintain hold on at least a few shires early in the game, otherwise they'll lose. I really enjoy that both sides are different in style: one favors the aggressor and the other favors a more defensive mindset. As a player who usually prefers the latter, this is a fun starting asymmetry.

There is a great feeling, as the Viking player, when you draw a new leader to start a round. Stacking all those troops onto that card makes you feel a little invincible. Of course, it never lasts. But for those first minutes the feeling is fantastic. "I will crush you English troops with my 20+ battle-hardened warriors!" quickly becomes "How can I take one more shire without leaving myself open for a counter-attack?"

Reinforcement phases provide some great relief for the English side, as well as tactical targets to keep in mind for the Viking player. Twice a round, the English forces replenish and they are spread throughout the map. Sometimes the Viking player might deem it worth going against a larger force to take over a spot generating more troops. Those are the battles that make this game even more exciting.

Speaking of making battles more exciting: the Fyrd. Yep, those pesky peasants and commoners can show up to make a difference when the English defend. But you never know how many. And boy, those yellow dice sure don't seem to hit all that often. Many times the Fyrd end up simply absorbing hits, but that makes sense. They aren't warriors, so they shouldn't be dealing out death very often.

This game has theme in spades. A lot of care was placed in providing a historically-rich experience in the game. Each faction has different dice, and the result proportion is accurate. There are cards that reflect the unique factions. The Viking leaders. The Fyrd units. The rulebook. And then if you dive into the expansion box, there is way more theme throughout there. This is a historical wargame done right, in my opinion. And I love this era, so that is something I was genuinely concerned about.

Dual end triggers. I first fell in love with that concept in War of the Ring. While not quite as thematic-feeling in this one (yet still thematic, if you think about it), this game has two ways that each side can win the game. I don't think we've played a game yet that has lasted all 7 rounds, which isn't a knock on the game design. Often one of us is pressing to end the game, trying to capitalize on our current advantage. Only once has it been forcibly triggered, when my only movement card was a Treaty card as the Viking player. I had a lot of work to do, and fell far short of it in Round 5… which taught me that playing that first Treaty card to "bring the threat of ending early" can totally backfire.

The card decks are small, which helps them to be manageable. You only have three cards in hand, and at least one must always be a movement card. This method can be really restrictive: first off, if you only have one movement card you end up with only one option for movement on your turn. You still get some decision about how to optimize that movement among your armies, but it stinks when you have no choices. The other side is if you draw nothing but movement cards. That was the case for me, as the Vikings, through 90% of the last play we had. I was stuck with all these movement cards and wasn't getting any events to help swing things in my favor. My wife, on the other hand, kept using cards that pressed an advantage and I simply didn't have an answer for it. So while I like the small deck, small hand, and the ability to swap in advanced cards, there is definitely room for this to improve. A deck of movement and a deck of event cards, perhaps, and you draw 2 from each. Or 2 movement and 1 event. Something like that to give movement options while also ensuring you have event cards at your disposal all game.

In terms of Wargames, there is a limit on the tactics you can try with this game. It might begin to feel samey after a while because the same shires will recruit, the same Viking leaders will storm in and try to take a few shires along the way. It never feels grand or epic in scope, and you rarely feel clever about something you did unless you had the luck of drawing a useful card. This is something I fully expect to be impacted in a good way by the mini-expansions, but it is worth nothing that the base game itself might run its course over time. It will remain a fun game, but might lose some of the interesting factors. There isn't much you can do to impact/influence combat, so you're at the mercy of rolling better and using enough troops to make sure you roll you maximum number of dice.

The Berserker units are fantastic and a lot of fun. However, you simply don't get enough of them out to be useful. You need to leave enough behind so that when your berserker faction is up, they can actually move. If you are the aggressor as the Viking player, you are guaranteed to lose a Berserker if the defender rolls a hit. And they usually do roll at least one, and since they get to swing first you might lose that extra die you need (because those Berserkers hit often!). They never retreat, so you won't get reinforcements that way. I just always find myself with them spread too thin and have had more than one turn where the Berserker faction could do nothing because they were all wiped out after a back-to-back English conquest to retake Shires. And that is the biggest issue: no Berserker units = no movement = no conquest for 1/2 of the Viking turns that round.

Let's talk about those minis. They look really cool. But they aren't practical. They are so small that they become difficult to stand on the board. My wife doesn't even bother standing the Fyrd units, just dumping them down for the battle. They are just going away at the end of that battle, anyway. If the minis were a little bigger, this wouldn't be as much of an issue. But for the size they are, the cubes would honestly have been a better option for gameplay. The minis give better photo opportunities and look cool and all. But man, they aren't worth the hassle. I kinda wish I had paid the extra $5 (I think) to get the cubes so I could have that option. As a person who plays a ton of euro games, I don't need the minis. And they just aren't practical based on the size here.
Final Thoughts
This was the first, and perhaps will remain the last, game I ever Kickstarted. I enjoyed the process and was pleased with the results, both in delivery and in the game itself. I am yet to tear into the expansion content and start adding the mini modules into the game, but the game itself doesn't need them to be a really good game. Those only serve to enhance the longevity of a game such as this one, allowing us to mix and match to play the unique setting we desire.
This is a really fun game, if a bit on the lighter side of things. My wife termed it to be War of the Rings Lite, and it does capture some of the aspects we enjoy about the battles in that game. There are a few cards that can be used to affect battles, making it so you don't always know what to expect when initiating combat. Speaking of combat, I do like that each faction has custom dice, not just different in color but in the symbols and number of those symbols. Those berserkers never flee, the Fyrd rarely hit. Even those dice make thematic sense.
This game really captures the theme, even if some of the methods are a little abstracted. Yet you feel like invading forces of Vikings or the desperate mustering of the English trying to fight off those invaders. The win conditions on each side also make some sense, and I can't wait to see how those expansions add in even more theme into the game.
This is the game I'll grab when I have a War of the Ring itch but don't have the time to play that game. It provides a fast and fun experience that doesn't overstay its welcome. This fits perfectly in the camp of being a game we can play during a weeknight after the little one is in bed, and be finished and have it put away with time to spare before bed.
If you are interested in the period of history, in picking up a wargame, or want something that is fun, fast, and asymmetric in style then this one is a great game. I'd argue that 2 players is the ideal count, allowing you to control both forces on your half of the conflict. This game system turned out to be a pleasant delight, and has me very interested in checking out some of the others like 1754 – Conquest: The French and Indian War (which I know she'll like, because of the Indians). This is a game that will definitely be sticking around for the long haul in our collection and has finally given me the Viking experience I've been looking for in board games.
Hopefully you found this review to be a useful look at how the game plays for 2-players. If you're interested in providing support for Cardboard Clash so I can continue to improve what we offer, check out my page over on Patreon.