Thank you for checking review #76 by Cardboard Clash. My aim is to focus on reviewing board games and how they play for two people and, on occasion, how they play for one person. Because my wife is my primary gaming partner, a lot of consideration goes into finding those games that play well with 2 players, and we typically prefer to find those games that do not require a variant (official or otherwise) in order to play it with just the two of us.
*A review copy of this expansion was provided in exchange for an honest review.
Be sure to check out the Kickstarter for the new campaign and other content: https://www.kickstarter.com/projects/1172937197/hero-realms-…

An Overview of Hero Realms: The Ruin of Thandar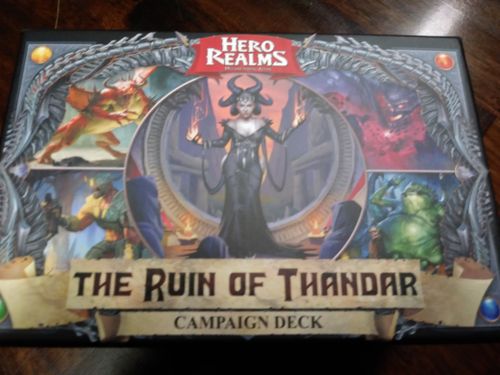 Hero Realms: The Ruin of Thandar is an expansion for Hero Realms and was designed by Robert Dougherty, Ben Chichoski, Daniel Mandel, and Darwin Kastle, and was published by White Wizard Games in 2017. The box states that it can play 1-5 players and has a 90 minute play time.
Choose your character, team up with your friends, and start your adventure! Gain experience points on each mission. Spend your experience points between missions to improve your character with awesome new skill and gear cards.
The 144-card The Ruin of Thandar Campaign Deck contains:

 Rules for solo and cooperative Campaign play


 Three different missions, each designed to be more challenging than the last!


 Skill and gear cards to improve and customize your character
My Thoughts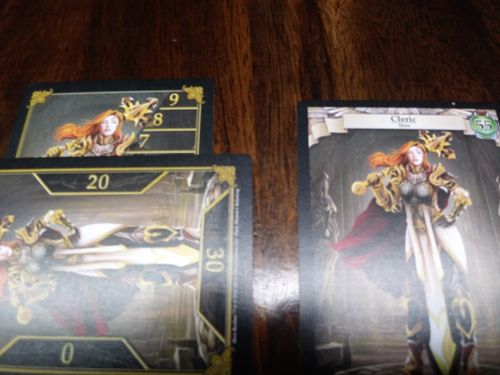 There is a well-considered progression you can develop your characters on throughout this, and the sequential, campaigns. This one box has every character path and upgrade you'll need for the five initial character classes you can use, allowing you to decide early on how you want to proceed and chart out where your character will ultimately end up. While this takes up a lot of the content in the box, this is also a nice benefit because it allows you to plan from the beginning for your progression.

 It is a small detail, but I like the decision to use oversized cards for the villains in the campaign. It helps the players to differentiate at a quick glance between the main target and the ancillary cards interfering with their objectives. Much like the oversized cards I use for Sentinels of the Multiverse, this simply adds a nice element that gives it better table presence and makes the ultimate target feel like a big deal.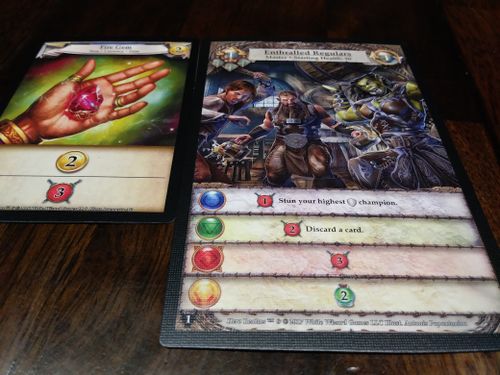 It goes without saying, but I appreciated this opening up solo play in a great way for Hero Realms. While I enjoyed a few matches of Star Realms against those little boss cards, this campaign provides a much meatier and more enjoyable experience for the solo gamer. This feels very much like a dungeon crawl-inspired implementation of a deck builder, coupled with some elements from games like Sentinels of the Multiverse. Does it do each aspect better than game X that specializes in that area? No, but by merging all three of those into one game it delivers a fun, fast package that is unique in itself and can satisfy a lot of what I want out of a gaming session.

 This campaign plays out almost like a choose-your-own-adventure book, which is really fun. What I mean by that is you still need to successfully defeat the first boss battle, but once you do there is a snippet or two to read in the book that lays out what happens next, and at the end of that you are faced with two choices on what to do next. Depending on which you choose you progress down a slightly different story arc and encounter a different boss battle as a result. And the third encounter simply blew my mind with the approach taken here. I now understand how there are 8 different oversized cards for 3 encounters.

 The rules of the bosses are relatively simple, using their constructed mini deck and consulting their card based on the colored symbol shown for activation abilities (in addition to whatever the card is). At least with a solo game, this keeps the pace of the game moving forward and makes the focus more on how I act and react to the boss rather than going through a convoluted system to operate them. It takes the bookkeeping and simplifies things in all the right ways.

 To prevent dumping of massive damage while ignoring everything else, the Master's deck can drop champions into your play area or into its play area (elites go to its area, all others to the player's area). If it has ANY champion in your play area, Guarded keyword or not, you cannot attack or target the Master or its champions in its area. Which really stinks when it drops a 9 Health enemy there early on in the game, but also makes for great interactions. And the clever ideas only get better as you advance in the campaign.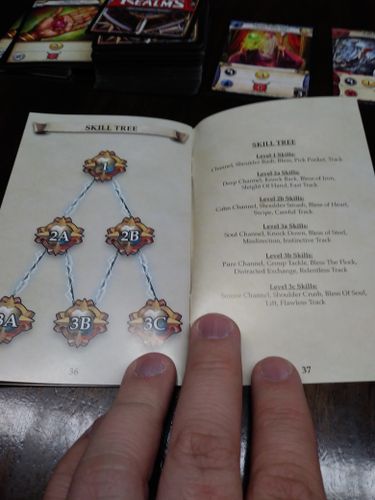 While I like the character progression and how scarce the upgrade points are, there is one thing I am disappointed with: you can't go outside of your class for upgrades. There aren't generic ones to choose from or anything, they are all specific to that class and essentially replace the starting abilities with stronger versions that become slightly specialized. By choosing Cleric, I'll never be able to upgrade into dealing damage even if I wanted to for those slots. It makes sense, of course, but I've found that some of the choices to upgrade toward are not really as suited for solo play and therefore making the decisions easier on which path to take.

 I've said it before about Sentinels and I'll say it as well on this game: the boss battles feel too easy at times. I went 3/3 on my campaign as a cleric, and while I had fun there was never a point where I was almost dead. The final encounter had about 2 turns where I was getting hit hard but then my deck's engine finally was set and I took about 5 points of damage for the rest of the fight while dropping it by over 50 in those turns.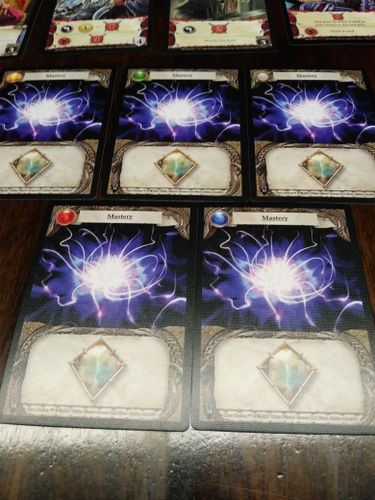 Tied with the above, the flipping mechanic is clever but it only happened on the 3rd encounter. Getting some deck control on the Master via the Discard ability felt overly powerful, allowing me to cycle the Mastery cards to the bottom. In the solo match, the decks never depleted and so I was always able to delay the inevitable. That changed in the 3rd one, but by the time the final battle flipped, I was gearing up to be in control.
Final Thoughts
This version of Hero Realms is exactly what I want out of the game. For a base game with such a small buy-in, this experience takes that initial package and enhances it in clever ways. Sadly, I don't think my wife will ever want to experience it (she hates co-op games) but the nice thing is that there's still the regular Hero Realms I can enjoy with her. But this is the essential expansion for anyone who wants solo play, or who enjoys the feeling of character progression and big boss battles.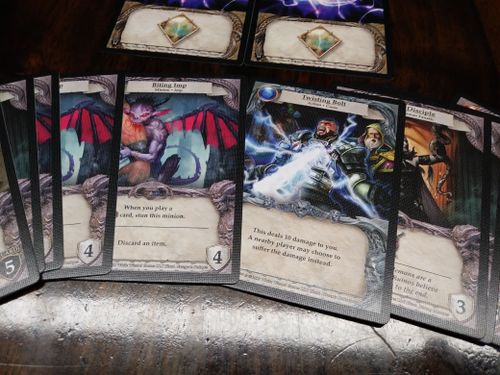 The story is simply told, and unravels in expected but exciting ways. There aren't really any curveballs, although the added story when a card flipped out in the 3rd encounter was pretty cool. It came too late to really make an impact on the game, but it was a neat touch. But I still like the linear story with the small branches of possibilities. The boss fights all felt unique, and I have only faced half the cards in that box.
I'm a fan of being able to have the full information of how each class can upgrade in the overall campaign, yet it feels wasteful since the majority of this box is the cards used to upgrade the five decks. The encounter cards are a small fraction of what is in the box, and in a solo game you only use 1 of the 13 "starter" cards when constructing those decks.
In spite of this, I definitely feel like this is a great expansion experience for an already enjoyable game. There is plenty of replay value in here, plus the challenge of completing it with all five different classes in existence. Even if White Wizard Games never released a 2nd Campaign box, there would still be enough in here to make it worth the price to pick up this box unless you hate cooperative games AND never play solo games.
However, this little box helped make Hero Realms one of my Top 10 solo games this year and I look forward to seeing the story continue in the upcoming The Lost Village box (something I still wish had been available at Gen Con, as I purchased a ticket to play it but the event was cancelled prior to Gen Con)
Be sure to check out the campaign running on Kickstarter: https://www.kickstarter.com/projects/1172937197/hero-realms-…