Over on BGG I have a thread for my current (and first) WIP board game. If you've followed along for a while, you might have heard that I had several ideas kicking around and that I was planning on going with a smaller and simpler design as my first game. But I decided, in the end, to go after the one I was most passionate about and so Monster Hunters earned my focus.
You can follow along on the BGG thread here: https://www.boardgamegeek.com/thread/2011918/wip-monster-hunters-2018-solitaire-print-and-play
But I will also occasionally make updates here as well for those not following on BGG.
***
Monster Hunters is a deckbuilding and worker placement game where monsters are threatening to destroy a town and, as a Monster Hunter, you have been hired to help take care of the threat. Unluckily for you, there is more than one monster descending upon the town and, making it even more unlikely that you can vanquish the beasts and make sure the town doesn't get destroyed…too much, at least.
Components required: TBD, but will primarily consist of cards, a main board, a player board or two, and some small cubes/discs.
Playing time: TBD
# of players: 1 (eventually may scale up to 1-4, but right now focusing solely on it as a solo game and building up from there!)
Categories in which this game is competing:

Best Overall Game


Best Rule Book


Best Regular PNP Build


Most Thematic Game


Best Game Designed in Contest Timeframe


Best Game by a New Designer


Best Deckbuilder, should the category be created


Best Worker Placement
***
Want to know a little more about Monster Hunters? Here are some initial ideas:
1) The deckbuilding adapts the mechanic from Aeon's End where you select the order in which you place your cards in your discard pile and do not shuffle the deck. Any cards not played on a turn can either be discarded or remain in your hand and you draw back up to 5 cards. This allows you to save up for those important combos, but also slows down how fast you're cycling the deck. Some cards are one-time play cards that go to the discard after use, while others are equipment that you can add to your character to gain permanent boosts until forced to discard.
2) Every game you begin facing the 1st tier enemy, which has its own deck of cards that it will play against you to add monsters to deal with, boost its own effects, or drop one-time actions that threaten the village. Tier 2 enemies are progressively more challenging, and the Tier 3 enemies are equivalent to boss fights. So while you might be powering up your own deck as you go, the enemies are getting stronger to compensate and challenge you.
3) Each tier of enemy also comes with two different "quest cards", one demonstrating what you need to accomplish to eliminate that enemy from play and the other containing the monster's timer objective. If you complete your objective first, the enemy is removed from the game and you advance to the 2nd enemy with a small advantage going into the next encounter as well as a card from your hunter-specific Feat deck that provides a powerful one-time-use ability. However, if the enemy's timer triggers first the next enemy deck comes into play, effectively forcing you to face two monsters and both of the nasty things in their decks at the same time. If you get REALLY unlucky, you could be forced to face all three of the monsters chosen for the game.
4) The ultimate idea is for there to be multiple "stages" to play through, where you get to add in special upgrades into your character's deck after facing down the trio of monsters and then you thin your deck back down to a preset number of cards in each category (Weapon, Armor, Spell, Item, Ally, & Character-Specific). Each hunter or huntress has a different distribution among those cards to where one might be able to stack their deck full of weapons but not get to keep many allies or save any spells.
5) The worker placement board, in the solo game, will have three token that travel clockwise in a set path around the board and block certain worker placement spaces. You have one worker (representing your hunter or huntress) to move throughout the town in order to shore up the town's defenses, find items, recruit allies, draw more cards, trash cards from your deck, and interact with the monsters in various ways such as sneak attacks, shooting from a distance, or facing it head-on. Each space you move around on the board advances the small time track in the center and, when it circles around, the monsters act and wreck havoc as well as place a token to advance their progress card. So depending on how well you plan, you might get to do several things before they act or just one or two actions. Your final action before it triggers can make it go past that trigger space, making your next batch of actions have even less time you can spend before they act again.
6) You'll need to consider your position and the state of the town as it gets closer to the time when the monsters act. Your current position on the board could make it so you take all of the damage of their actions, or it could make it so they hit the town with all of their damage. If your hunter/huntress, or the town, ever runs out of life then you instantly lose the game. Additionally, if the 3rd tier monster's track ever reaches its completion you will lose the game.
7) Certain cards in the monster decks, as well as a few that can enter your own decks, may get boosted effects if certain cards are currently in play when they are used. For instance, there could be a card titled something like Marksman that doubles your damage dealt this turn if you have a Bow equipped and otherwise might simply add +1 or +2 to an attack. There will be a lot of them in the monster decks, especially in the higher tier monsters.
8) Certain cards and actions will gain you Glory, which is the victory point currency of the game. When the game gets to a point in the future where more players can be added, this will be the way of determining the winner of the game regardless of the outcome of the town's defense. Certain scores, however, may unlock extra bonuses for your character between scenarios in order to help them progress to even greater levels of strength so that it remains a relevant factor even in a solitaire game. However, this is likely to be among the last things to be tuned and implemented in a meaningful fashion and may serve, in early playtests, as a way for me to gauge the range of scores so I can tweak values and determine where those bonus thresholds should reside.
9) My goal, for this contest, is to get at least one huntress and a trio of monsters to face. Once that is in a state of playability, I will focus on creating 2-3 more hunters/huntresses, and then new monster decks. If I progress far enough, I'd like to have 4 characters, 3 sets of monsters per tier, and the cards to progress through everything in a mini-campaign where the monsters, your character, and the decks to purchase from all get slightly stronger after each set of encounters. Long-term goals include making a narrative campaign to tie in with the progression of the game.
Hopefully this all sounds interesting to you! So far this is 100% idea and concept, and I will be spending the weekend working on some very small decks to use for the cards during the first encounter, both for the initial monster and for the town's decks that can be purchased from. These are likely to be small in number and mostly to test the initial mechanics and see how that flow goes. Next will come adding in the other two monsters and initial attempts at determining the progress cards, etc. before fleshing out all of the decks with a full range of cards (I'm thinking 40 town cards and 20 monster cards per monster as the ultimate goal). I'll be sketching the board, as well, and sharing pictures of that and some cards over the weekend! All hand-made, so be kind!!!
***
Okay, first off a sneak peek at the first huntress: Ava. She's modeled after the protagonist from my first book, Monster Huntress, which is the obvious inspiration for the game. I may give each character card a one-time-use ability that can trigger and then flip the card, but I haven't decided yet. Also shown are her two initial ideas for the character-specific cards in her starting deck. Note the double usage cards – that will likely be a feature on the majority of cards outside of the starting deck.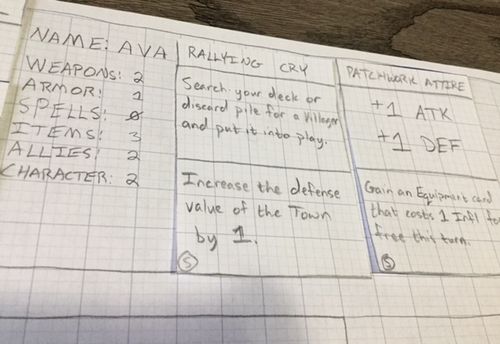 Most of the remaining cards in the starter deck will be simple ones such as +1-2 Atk, +1-2 Def, +1-2 Infl (Infl = Influence, which is your purchasing power)
And now for the board! The dimes represent the shifting spaces that are blocked each turn, and the penny represents the Huntress character of Ava. For her first turn, she visited The Forge (market of cards containing weapons & armor).
Her turn ends and the dimes all shift one space clockwise, following the arrow pattern shown on the board regarding where they move to next.
Next she chooses to move over to the space temporarily titled Refresh Markets, which lets her wipe the display of one, or both, of the markets of cards (The Forge has weapons & armor, The Council has allies and items). That space is 3 away from The Force, so the Time Marker moves ahead three spaces (shown by the eraser).
At the end of the round the dimes all move another space, but one of them was slated to go onto Refresh Markets next. Since Ava was there, it skipped that space and shifted to the next one in line. Thematically, you can think of these tokens as representing pockets of chaos or conflict created by the monsters. They seek opportunity at wrecking havoc on the town and try to avoid the huntress, but are a minor threat to where the townsfolk should be able to fend them off for a bit while she deals with the larger threat of the main enemy forces.
Finally, Ava decides to go to the Scrap action to remove a card in her hand from the game. Is that a likely choice this early? Not really, but it is a good demonstration here. That space is six away clockwise, but only four going counter-clockwise. So the timer moves up four spaces since she wouldn't likely go the long way through town in order to get to this area. Her time is nearly halfway through before the monsters attack, so hopefully she's getting set up to drop some major damage soon!
***
And as of today (6/29) over the lunch hour here's the component progress for me to be able to run my first tests of the first monster in the game:
Game board: Done
Huntress player board: Done
Huntress starter cards: 10/10 Done
1st Monster cards: 16/20 done
Equiment cards: 0/12 done
Item/Ally cards: 0/12 done
Feat cards: 0/3 done
Setup card: 0/1 done
Progress Cards: 0/2 done